Back to results
110.00€* TTC/night
510.00€* TTC/week
1310.00€* TTC/month
Book
* rates excuding residence tax
Fitted kitchen
Washing machine
Linen
Wifi
This calm and cozy one-bedroom aparthotel has been fully renovated in 2017. It is ideally located in the Old Town district.

The main room is equipped with a safa convertible into a real bed, a coffee table, a flatscreen TV, and a high table with three stools to enjoy home diners.

The kitchen area of this short term rental is fully equipped: electric hob, microwave oven, convection oven, fridge, freezer, Nespresso coffee machine, toaster and kettle.

The bedroom has a double bed along with a side table and a shelving unit.

The bathroom has a sink, a comfortable shower and a heated towel rail. Toilets stand in a separate room.

A washing machine and an ironing set are at disposal.

Free WiFi is included in this short term rental apartment.
+ Fitted kitchen
+ Washing machine
+ Nespresso coffee machine
+ Ironing board
+ Linen
+ Flat screen TV
+ Wifi
2 reviews
Accommodation 5/5
Equipment 5/5
Geographical location 4/5
Reception 4/5
Furnishings 5/5
Property 5/5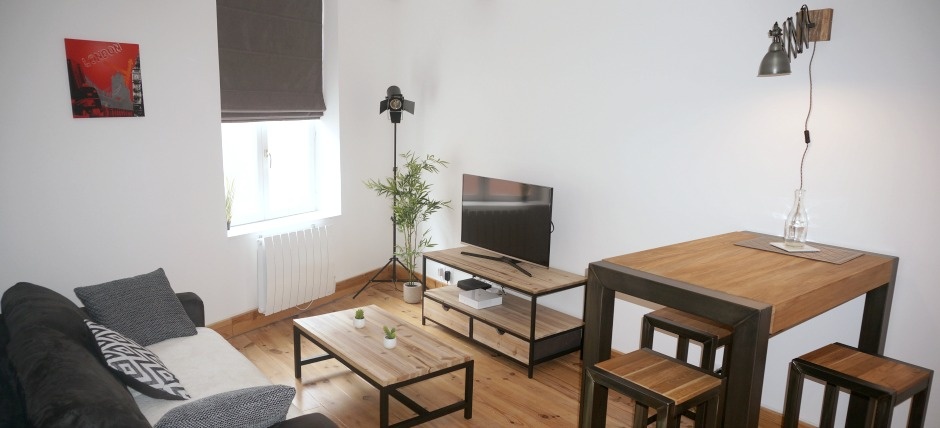 Review of
this apartment
What do you rent? One-bedroom apartment
Bed Type: Double bed + Sofa bed
City: Lille
Bath / shower: Shower
Area: 29 sq. mt.
Accommodation capacity: 3
Room(s): 1
Cot:
Floor: 2
Baby chair: + 10,00 EUR
Additional person (beyond two): Free of charge
Book this apartment
All booking steps are done in the following screens